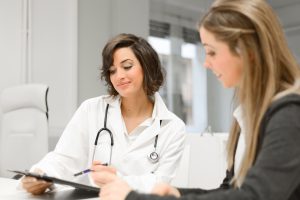 Many women experience urinary incontinence, sexual dysfunction, and vaginal dryness. These conditions have historically been brushed under the rug. Women need to know that, although common age-related problems, vaginal dryness, laxity, and discomfort do not have to be a part of their lives. The use of PRP represents a significant step forward in supporting women's sexual wellness.
In the form of the O-Shot, platelet-rich plasma is used selectively to improve concerns including urinary incontinence, vaginal atrophy, lack of lubrication and sexual responsiveness, painful intercourse, and more. Women's Excellence is pleased to offer the O-Shot treatment in southeast Michigan.
What are the benefits of the O-Shot Treatment?
The O-Shot is a safe, nonsurgical treatment that helps stimulate tissue rejuvenation in the area of the clitoris and vaginal opening. Platelet-rich plasma is an organic substance that is obtained within the patient's blood. Because PRP belongs to the patient, the body will readily absorb its nutrients and make the best use of them. Benefits of the O-Shot include:
Increased G-spot responsiveness
Increased clitoral responsiveness
Relief from dyspareunia, painful intercourse
Increased vaginal tightness
Improvement in the intensity and frequency of orgasms
What are side effects of the O-Shot?
There are very few side effects to the O-Shot. This is largely due to the biological nature of PRP. The growth factors contained in platelet-rich plasma soothe the minor irritation that occurs from injections. As PRP gets absorbed in the vaginal tissues, slight swelling may develop. The injection areas may also feel slightly sore. These side effects are expected to resolve in a day or two.
How often should I get the O-Shot Treatment?
The O-Shot can be a one-time treatment for up to two years of improved sexual wellness. However, studies suggest that a second O-Shot six to twelve months after the first can extend the results achieved.
What to expect during my O-Shot Treatment?
The entire visit may take no more than 30 minutes. Steps to the O-Shot include:
Patients have blood drawn from the arm. This is similar to having lab work done during a routine physical. The blood is processed in a centrifuge machine that spins at high-velocity to separate plasma from red blood cells.
While blood is processing, a topical numbing substance is applied to the tissue where injections will be administered.
After PRP has been isolated in a syringe, the substance is injected into specific areas to address concerns discussed during our consultation.
Is any recovery time needed after the O-Shot Treatment?
Patients do not need downtime after O-Shot treatment. All activities can be resumed based on comfort.