Not all body fat is bad.  In fact, fat cells are a very important part of your body.  Fat cells produce hormones that help with your brain and liver function, your immune system, and your fertility.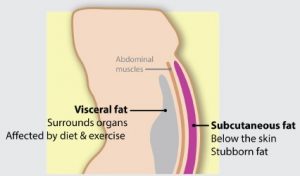 Body fat can be separated into 2 categories:
Subcutaneous Fat: Subcutaneous fat sits right under the skin.  This fat causes cellulite.  Subcutaneous fat can actually improve your metabolism!
Visceral Fat: Visceral fat surrounds organs like the liver and pancreas.  This type of fat can lead to many health conditions like heart disease, diabetes, breast cancer, high cholesterol, high blood pressure, and more.  Visceral fat can go completely unnoticed because it's not visible.
WE Can Help!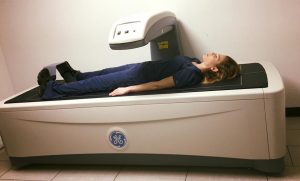 Do you know how much of this unhealthy fat you have?  If not, WE can help!  At Women's Excellence, we offer a comprehensive Body Composition Analysis to help determine if you are carrying a concerning amount of visceral fat.  After your analysis, you will meet with one of our providers to discuss your results and develop an action plan to lose your visceral fat and begin a healthy lifestyle.
How can you lose visceral fat?
Lifestyle changes and reducing your calorie intake below your burn rate can help you lose your visceral fat.  A diet that includes fresh fruits, vegetables, whole grains, and lean protein is ideal.
Visit our live chat at the bottom right of your screen for more information and to schedule your Body Composition Analysis!