BOTOX® is approved to treat Overactive Bladder (OAB) symptoms, such as a strong need to urinate with leakage, urgency and frequency in adults when another type of medication (anticholinergic) does not work well enough or cannot be taken.
Advanced Approach for OAB Treatment
BOTOX® for overactive bladder is a treatment option that takes another approach to target the source of your OAB: the bladder muscle itself. Now might be the right time to ask about how BOTOX® treatment may help you with your OAB symptoms. Learn More
How does BOTOX® work?
BOTOX® works on the nerves and bladder muscle, blocking the signals that trigger OAB. In your body, certain chemicals travel from nerve cells to muscle cells to make your bladder contract so that you can urinate. With OAB, these muscles contract uncontrollably, and you frequently feel like you have to empty your bladder.
BOTOX® is a prescription medicine that is injected into the bladder muscle and used to treat overactive bladder symptoms such as a strong need to urinate with leaking or wetting accidents (urge urinary incontinence), a strong need to urinate right away (urgency), and urinating often (frequency) in adults 18 years and older when another type of medicine does not work well enough or cannot be taken.
Proven results
In two 24-week clinical trials, patients who received BOTOX® (vs. those who did not) reported a significant reduction in the number of their daily leakage episodes at week 12.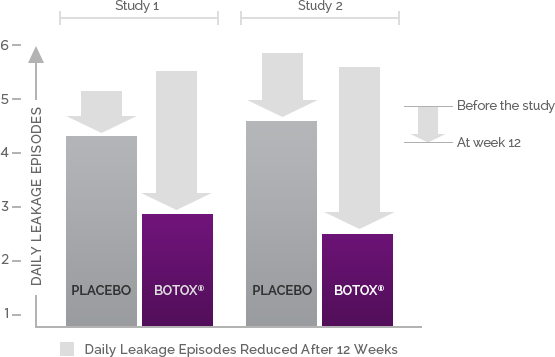 Women's Excellence can help you determine if Botox for overactive bladder is the right treatment option for you.
Contact us or use our chat today to schedule a consultation.