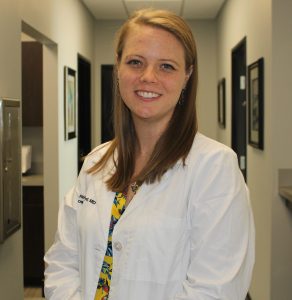 Dr. Abigail Boyd is a caring and dedicated physician, putting patients first in all aspects of their care.  Dr. Boyd values a strong patient-physician relationship so that patients take an active role in their healthcare management.
Her services include:
Annual exams
Infertility consultations
Genetic testing
Abnormal uterine bleeding / excessive bleeding
Birth control services
Minimally invasive procedures
Breast exams
Low and high risk obstetrical care
Painful periods
Adolescent care
Hereditary cancer risk testing
Endometrial biopsies
Uterine fibroids
And more!
Dr. Boyd grew up in Rochester Hills and has stayed close to home ever since. She attended the University of Michigan in Ann Arbor and received her Bachelor of Science in Microbiology and Spanish. She then moved to Detroit and completed her medical degree at Wayne State University School of Medicine. She then completed her OBGYN residency at Ascension Providence Hospital in 2019.
Outside of medicine, Dr. Boyd enjoys traveling, running, Michigan football, and spending time with friends and family.  She and her husband also recently adopted two kittens!
Dr. Boyd values a comfortable and respectful medical environment. She understands that a woman's life can bring exciting changes, as well as tough health challenges, which is why she promotes individualized healthcare for her patients. She joins a team of physicians at Women's Excellence who are understanding, non-judgmental, highly skilled, and passionate in your healthcare.
Dr. Abigail Boyd has appointment availability in our Lake Orion, Clarkston, and Lapeer, Michigan locations. She is currently welcoming new patients. Contact us today to schedule an appointment with Dr. Boyd.