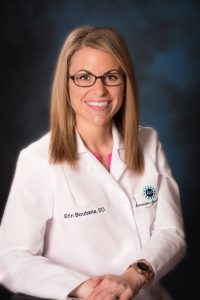 Dr. Erin Bouhana is a board-certified Ob/Gyn with a passion for the emotional, physical, and overall wellbeing of women. She is dedicated to educating her patients about their health in every step of their care.
Dr. Bouhana knows that when it comes to your health, there's nothing more important than trust. She understands the importance of taking time to learn about her patients, listen to their concerns, and address their needs with exceptional care. Dr. Bouhana's services are well-rounded and include standard gynecologic care, complex gynecologic care, and high level surgical techniques.
Her services include:
Annual exams
Infertility consultations
Abnormal uterine bleeding / excessive bleeding
Birth control services
Breast exams
Low and high risk obstetrical care
Painful periods
Adolescent care
Hereditary cancer risk testing
Endometrial biopsies
Uterine fibroids
And more!
Dr. Bouhana's compassion for her patients and dedication to their care allows her to work as a team with her patients to provide top-notch care. Her philosophy is "if a patient is not comfortable with their treatment plan, their experience will be a poor one". Dr. Bouhana's goal is to work in a partnership with her patients to develop the best treatment plan for them that they both agree on. She values advanced therapies and promote minimally invasive surgical techniques.
Dr Bouhana performs her surgical procedures at both Ascension Crittenton Hospital in Rochester, Michigan and William Beaumont Hospital in Royal Oak, Michigan. She services obstetrical labor and delivery patients at William Beaumont Hospital.
Dr. Erin Bouhana grew up in Hartland, Michigan and attended Michigan State University for her undergraduate studies in the Lyman Briggs College. Erin stayed in East Lansing, Michigan and continued her studies at Michigan State University and attended the College of Osteopathic Medicine for medical school. She then completed her residency in Obstetrics and Gynecology at Metro Health Hospital.
In addition, Dr. Bouhana is an active member of many medical societies including the American Congress of Osteopathic Obstetricians and Gynecologists, the American Congress of Obstetricians and Gynecologists, the American Osteopathic Association, and the American Women's Medical Association.
In her spare time, she enjoys exploring her hometown of Royal Oak, Michigan with her family. She also enjoys staying active by cycling, dancing, and weight training. To relax, she enjoys reading.
Dr. Bouhana values a comfortable and respectful medical environment. She understands that a woman's life can bring exciting changes, as well as, tough health challenges, which is why she promotes individualized healthcare for her patients. She joins a team of physicians at Women's Excellence who are understanding, non-judgmental, highly skilled, and passionate in your healthcare.
Dr. Erin Bouhana has appointment availability Monday-Friday in Birmingham, Lake Orion, and Rochester, Michigan locations. She is currently welcoming new patients. Contact us today to schedule an appointment with Dr. Bouhana.
My patients are the reason I come to the office everyday. I consider it a privilege to help people, and feel honored that they trust me with their health.