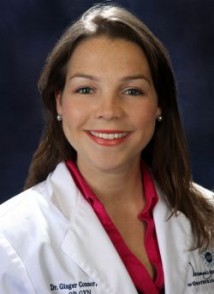 Dr. Ginger Connor is a caring and diligent, board certified obstetrician and gynecologist at Women's Excellence. She sees patients for a variety of health concerns, routine gynecologic care, and minimally invasive surgical procedures. Dr. Connor believes in a mutually committed doctor-patient relationship and the delivery of superior, evidence-based medicine. She understands that all women are unique and, therefore, customizes her care to provide her patients with individualized treatment plans.
Her services include:
Annual exams
Birth control services
Preventative healthcare
Low and high risk obstetrical care
Uterine fibroids
Osteoporosis management
Bone density management
Minimally invasive robotic surgery
da Vinci robotic surgery
Genetic testing
Heavy menstrual bleeding concerns / Excessive bleeding
Painful periods
Adolescent care (starting at age 13)
Infertility
Irregular menstrual periods
And more!
Her treatment approaches including a mix of medical, naturopathic, and surgical methods. As a gynecologic surgeon, she specializes in minimally invasive surgical procedures including laparoscopy and robotic surgery.
Dr. Connor performs surgical procedures at Ascension Crittenton Hospital in Rochester, Michigan and William Beaumont Hospital in Royal Oak, Michigan. All labor and delivery care is managed at William Beaumont Hospital.
Dr. Ginger Connor grew up in Southeast Michigan. While staying loyal to her home state roots, she attended Hope College and pursued her medical studies at Wayne State University School of Medicine. She completed her residency in Obstetrical and Gynecologic care at William Beaumont Hospital in Royal Oak, Michigan.
In addition to being board certified by the American Board of Obstetrics and Gynecology, she is a member of many groups including the American Congress of Obstetricians and Gynecologists, the Gold Humanism Honor Society, and the American Medical Students Association. She also received the Alpha Epsilon Delta Premedical Honorary Award.
She is actively involved in the local community through organizing fundraising and team-building activities. Outside of her practice, Dr. Connor enjoys hiking, backpacking, reading novels, camping, windsurfing, and spending time with her family and friends.
Dr. Connor is uncompromising in her dedication to the well-being of her patients. She is committed to giving the best care and establishing long-lasting relationships with them. She joins a team of physicians at Women's Excellence who are understanding, non-judgmental, highly skilled, and passionate in your healthcare.
Dr. Connor has appointment availability Monday through Friday at the Women's Excellence offices in Birmingham, Clarkston, and Lake Orion, Michigan locations. She is currently accepting new patients. To schedule an appointment with Dr. Ginger Connor or to learn more about her services, click here.
Why I Became a Doctor
Being an Ob/Gyn allows me to connect with women in the community and help maintain their health. I enjoy helping women through the different stages of their lives and educating them on how to optimize their well-being. Becoming an Ob/Gyn is one of the best decisions that I have ever made. This particular field of medicine is interesting, challenging, and always evolving. When you wake up in the morning and you want to go to work, that's a great feeling!