Nickole Bazger, DO, FACOOG, CFCMC
President, Life Flows MEDICINE & SURGERY PLLC
www.pureoath.org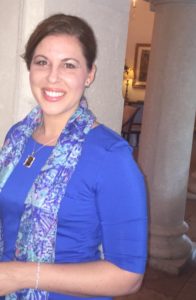 Dr. Nickole Bazger is an actively practicing OB/GYN, offering clinical experience and expertise within an authentic, preventative, and holistic view of health and wellness; a term she calls wholeness.
She is born and raised in the Detroit area, graduated from Marian High School in Bloomfield Hills, is a U of M alumnae, and holds a Doctorate of Osteopathic Medicine from Michigan State University College of Osteopathic Medicine.  She completed her residency training at Mercy St. Vincent in Toledo, Ohio.
As a St. John Paul II Fellowship-trained surgeon and Certified Fertility Care Medical Consultant, having completed both programs at the Pope Paul VI Institute for the Study of Human Reproduction, she offers a thorough understanding of the Creighton Model System of FertilityCare, applying principles of Medical and Surgical NaProTECHNOLOGY to preserve and restore reproductive anatomy and physiology.
She is able to diagnose and treat a variety of complex women's health issues such as endometriosis, chronic pelvic inflammation and adhesive disease, polycystic ovarian syndrome, pelvic pain, ovarian cysts, abnormal bleeding patterns, dysmenorrhea, dyspareunia, and more. She utilizes cooperative medical management and surgical techniques such as hysteroscopy, laparoscopy, CO2 laser, and minimally invasive robotic reconstructive surgery.
Dr. Bazger's approach is one of partnering with patients to achieve goals of regular, functional menstrual cycles and address underlying causes of gynecologic and endocrine dysfunction. This includes incorporation of lifestyle choices emphasizing a clean, whole food, plant-based diet, mind-body-spirit fitness combining meditation and prayer, movement, exercise, and positive reinforcement, and recognition of mental, emotional and psychological barriers to achievement of optimistic, yet realistic balance. Dr. Bazger facilitates patients in identifying weight challenges, dietary insufficiencies, lacks in energy, extended premenstrual symptoms, chronic anxiety, sleep deprivation, self neglect, poor coping habits, a sense of helplessness or fear, amplified or prolonged stress response, all of which may be impeding fullness, satisfaction, and gratitude from daily activities and have a greater impact on reproductive and overall health goals.
With a degree from the University of Michigan in Biopsychology and Cognitive Sciences, Dr. Bazger provides mindful and practical solutions with a unique, big-picture view, considering details that impact outcomes, essential ingredients for decisive prevention and lasting restoration. She adds to this a Catholic, faith-based understanding of life and appreciation for God's creation. She draws from a belief in cooperation with God for the fulfillment of purpose, wisdom, and discernment from the Holy Spirit, and diligence with patience and trust in abandonment to Divine Providence.
By offering a comprehensive and Osteopathic insight, Dr. Bazger invites patients to participate in making use of past experience, self-awareness, current progress, and future vision of health in order to translate their steps toward wholeness into appreciable results. Specifically, this can mean that natural fertility potential is enhanced, new perspectives and treatments are provided, or that there are a peace and an understanding which serves as motivation and hope for the future.
Dr. Bazger offers education on and interpretation of Natural Family Planning (Creighton Model System of FertilityCare, Ovulation, and Sympto-Thermal methods), proactive guidance and progesterone support for miscarriage prevention and preterm labor reduction, full obstetric and perinatal care, clinical breast surveillance, and integrative gynecologic maintenance and preventative services.
Her goal is to help simplify your path to wholeness.
Her personal interests include studying and researching various topics such as psychoneuroimmunology, modification of cancer risk factors, environment, nutrition, agriculture, and botanical medicine. She enjoys music, nature, architecture, design, cycling, and Pilates Reformer.
Dr. Nickole Bazger sees patients at our Royal Oak office.
She delivers and performs surgery out of St. Joseph Mercy Oakland.  She also operates at Ascension Providence Rochester, McLaren Oakland in Pontiac, and Grosse Pointe Beaumont.
Contact us using our live chat or call 248-645-0840 to schedule an appointment.
For more information, please visit Pureoath.