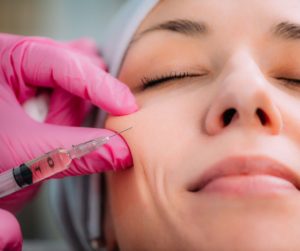 Many of my patients come in asking so many questions regarding dermal fillers and I don't blame them! The market is saturated with different name brands such as Juvederm, Versa, Restylne and the list goes on and on!  
Years of smiling, laughing, talking, and tanning can result in inevitable wrinkles. Dermal fillers can erase years of fine lines, provide youthful radiance, and increase your confidence. This non-invasive treatment can also provide lip enhancement and reduce acne scars.  At Urban Aesthetics, we use the entire Juvederm line and Revanesse Versa to offer patients the best in hyaluronic acid based dermal fillers. 
What Can Dermal Fillers Be Used For? 
Volumize Lips

 

plump Cheeks

 

Fill in Forehead Lines

 

Reshape the Chin or Nose

 

Eliminate Marionette Lines & Nasolabial Folds

 

Reduce Appearance of Scars

 
How Do Dermal Fillers Work? 
As a result of the natural aging process, less collagen is produced by the body. Other natural oils are also produced less as we age, which dries up the skin. Dry skin is more fragile, loose, and saggy, which creates lines and crevices on the skin.  Dermal fillers contain ingredients, like hyaluronic acid, that add fullness to areas affected by skin aging. These active ingredients stimulate collagen production, enhancing skin elasticity and restoring volume.   
What is Hyaluronic Acid? 
Hyaluronic acid is a naturally occurring substance in the skin that attracts water and offers natural volume.  
At Urban Aesthetics we utilize different fillers for different patient needs. Whether it be enhancing lip volume, creating more cheek contour, or reducing the nasolabial folds, all of it can be done! Each filler lasts different lengths of time, the average 1+ years. The correct filler will be chosen for you at your 1:1 consultation with Suzana Marku, NP-C. 
Dermal Filler FAQ
Do Facial Fillers Hurt?
The idea of facial fillers can seem scary to many patients due to a fear of pain resulting from the injections. Some patients do report mild discomfort during treatment, but this all depends on which areas are treated and how much filler is used.  We aim to keep our patients comfortable and relaxed throughout their entire procedure.
What's the difference between a dermal filler and Botox?
Both treatments involve injections, but Botox relaxes muscle movement that results in wrinkles while dermal fillers simply plump out and smooth wrinkles. Sometimes, these treatments are more effective when combined.
Are Dermal Fillers Safe?
All of the dermal fillers we offer are FDA-approved and have been shown to be safe in numerous clinical trials. In general, hyaluronic acid fillers are extremely safe and carry the lowest chance of triggering an allergic reaction of any dermal filler.  This is because hyaluronic acid is found naturally within your body, so you're not introducing an entirely foreign substance.
Who is an ideal candidate for dermal fillers?
Dermal fillers are generally most successful for men and women who seek a non-surgical method of facial enhancement. They can also be an ideal treatment for individuals wishing to avoid a prolonged recovery period or excessive downtime. If your aesthetic goals include temporarily correcting the appearance of facial volume deficiency, wrinkling, pronounced creases, or fine lines, dermal fillers may be able to provide the results you desire. Those considering treatment should be in good overall health and not be pregnant or nursing.
To schedule an appointment, call (248) 397-5028.
Visit our instagram page for more information and before and after photos.
Check out our new website here!