What is a urodynamics test?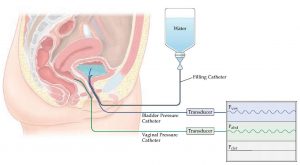 Urodynamic testing allows us to take pressure measurements in your bladder and urethra. This provides valuable information about bladder function. It is usually ordered by the doctor if you report symptoms of stress urinary incontinence (SUI) or overactive bladder (OAB). Some urodynamic tests are relatively simple and can be done in our office. Other tests require sophisticated instruments to measure the amount of pressure experienced by the bladder and urethra. The tests done vary from person to person.
How do I prepare for the test?
Please arrive at the bladder control center on time with a moderately full bladder. Try not to empty your bladder before your appointment. You will be able to resume your normal activities immediately following the test.
What does the test involve?
You will be asked to void on a bedside commode during the test and you will also be catheterized with a small urinary catheter briefly during the measurements. Sterile water is instilled into the bladder for this purpose. A vaginal catheter is be placed. The test takes 20 to 45 minutes depending on how quickly you can void and get on and off the procedure table. You must be able to tolerate lying on your back with your legs in stirrups like the position required for a pap smear.
For basic urodynamic testing:
You must arrive for testing with a full bladder.
While you urinate into a container, the volume of urine and the rate at which the bladder empties are measured.
A thin, flexible tube (catheter) is inserted into the bladder through the urethra. The volume of any urine remaining in the bladder is measured (post-void residual, or PVR). A slight burning sensation may occur when the catheter is inserted.
The bladder is filled with water through the catheter until you have the first urge to urinate. The amount of water in the bladder is measured at this point. Then more water may be added while you resist urinating until involuntary urination occurs.
What do you need to know?
We do urodynamic testing to evaluate the best way to treat you. It allows us to know the cause of your bladder leakage or other abnormal bladder activity so we can treat the underlying cause of the problem with appropriate procedures and medications.
Urodynamic Bladder Evaluation
We offer urodynamics as an in-office procedure which differentiates us from many practices who are forced to refer a patient to another facility for testing. We also offer the latest technologies with computer-generated graphing and pressure monitoring, ensuring that we have the most accurate diagnosis of bladder function or dysfunction possible.
Follow up?
A urine culture is sent to the lab for analysis. We will call you if a bladder infection is found.
You will have a follow up appointment with your doctor to review your test results.
Overactive bladder is difficult to live with. Urodynamic testing helps us to customize your treatment plan. Contact Women's Excellence or use our chat to schedule an appointment to get the process started.