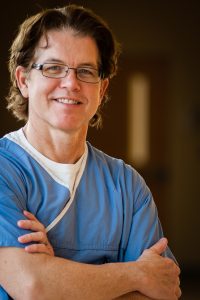 Dr. Douglas Pugmire is a renowned and established Gynecological Oncologist serving patients in Southeast Michigan. He empowers women through education so that his patients are partners in their health care decisions and not just another number.
His services and specialties include:
Identification and treatment for gynecologic cancers like cervical cancer, ovarian cancer, uterine cancer, and vaginal and vulvar cancers
Minimally invasive robotic surgery
Treatment for large uterine fibroids
Hereditary cancer risk screening
Treatment for pelvic adhesions
Ovarian cysts
Adenomyosis
Endometriosis diagnosis and treatment
Pelvic organ prolapse
Excessive menstrual bleeding
Recurrent gynecologic cancers
And more!
Dr. Pugmire is an expert in minimally invasive robotic surgery. He is considered one of the top robotic gynecological surgeons in the entire country. Using da Vinci robotics technology, Dr. Pugmire has performed, and continues to perform, more robotic surgeries than any other robotic surgeon in the Northeastern region of the United States. He performs his surgical procedures at Ascension Crittenton Hospital in Rochester, Michigan.
Dr. Pugmire's caring approach and individualized treatment for his patients allows him to provide exceptional quality care. He joins a team of physicians at Women's Excellence who are understanding, non-judgmental, highly skilled, and passionate in your healthcare. By offering gynecologic oncology services at Women's Excellence, he is able to streamline care and give patients an efficient, organized, and team approach to their treatment plan.
Dr. Pugmire received his medical degree from Kirksville College of Osteopathic Medicine and completed his OB/GYN residency at the University of Medicine and Dentistry of New Jersey. In addition he completed an OB/GYN internship at Metropolitan Medical Center in St. Louis, Missouri and a 2-year fellowship in gynecologic oncology at Pennsylvania Hospital. Prior to coming to Crittenton, Dr. Pugmire spent 3 years at Sparrow Cancer Center in Lansing, Michigan, 7 years in private practice, and 2 years at Ingham Regional Medical Center.
In addition, Dr. Pugmire is a member for many groups including the American Osteopathic Association, the American Medical Association, the American College of Osteopathic Obstetricians and Gynecologists, the Society of Laparoendoscopic Surgeons, and the Michigan Osteopathic Association.
Dr. Pugmire is married and has three wonderful children. He enjoys spending time with his family, traveling abroad, and a multitude of outdoor activities. He is a regular keynote speaker at medical conferences and seminars across the country.
Dr. Pugmire currently sees patients Monday – Thursday at Women's Excellence and the Cancer Center for Women in Rochester Hills, Michigan. He is currently accepting new patients. To schedule an appointment with Dr. Douglas Pugmire or to learn more about his services, click here.
I specialize in gynecologic oncology to educate, empower, and help women overcome their cancer. I am passionate about preventative health and early detection, which is why our office specializes in hereditary cancer screenings to inform patients of their risk for certain cancers. Cancer is an overwhelming disease that comes with a lot of stress, fear, and anxiety. I strive to work as a team with my patients and their loved ones to make them as comfortable and calm as possible during their treatment plan. My goal is to deliver exemplary, cutting-edge care to women who have cancer or are at risk for developing this disease.